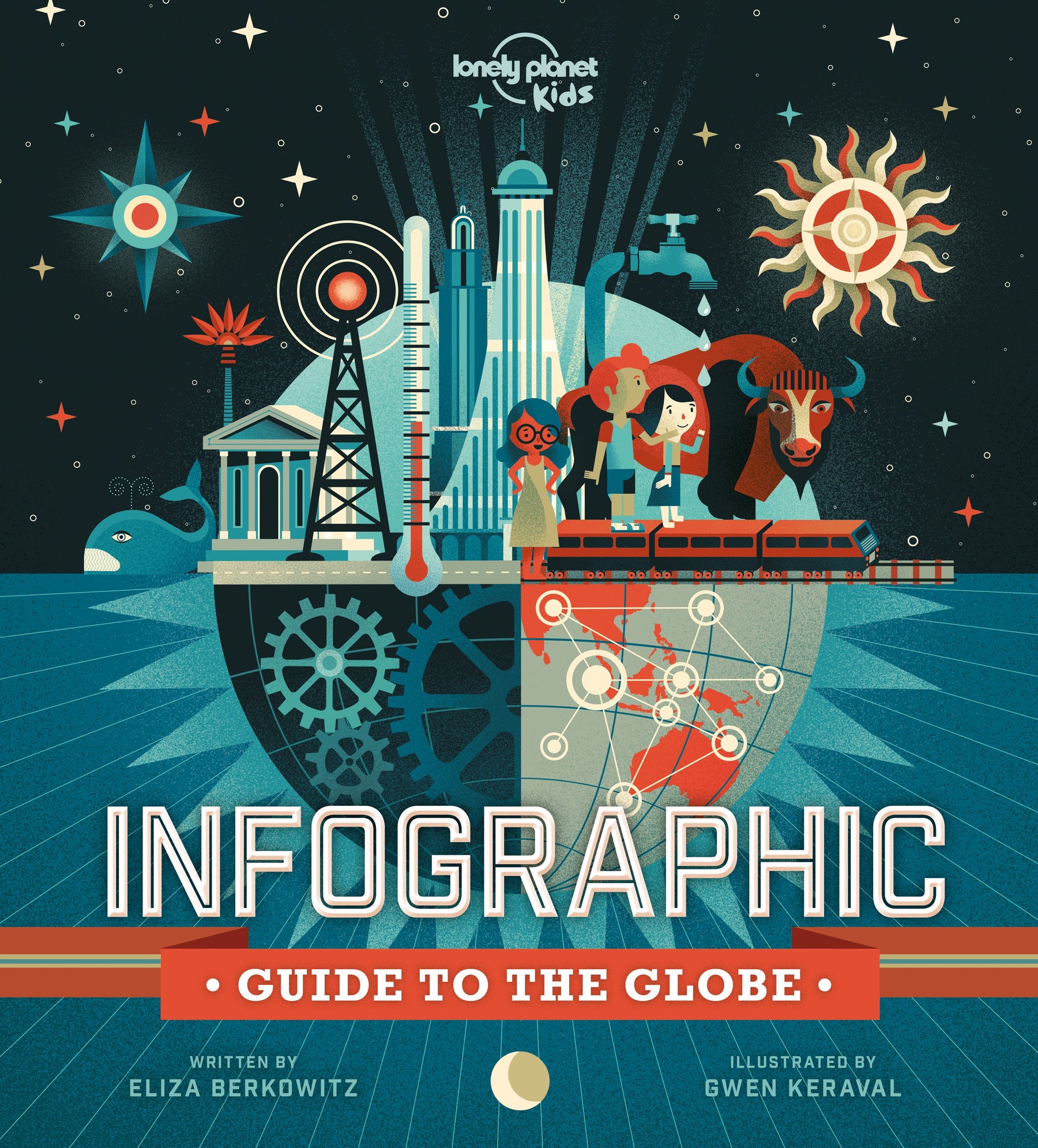 Infographic Guide to the Globe (North and South America edition)
Which ocean is the largest? What pet is most popular in different parts of the world? How far away is each planet from the sun? Learn these and dozens of other fascinating facts about our planet and its inhabitants in Lonely Planet Kids' Infographic Guide to the Globe, a dynamically-illustrated guide full of graphs and charts.
Colorful graphics featuring fun facts keep kids entertained and learning. Plus, you'll find engaging questions on every page that encourage readers to assess the information and draw conclusions about our world. Whether you're wondering how many years the average American goes to school compared to the average Nigerian or what percentage of the globe is covered with salt water, Infographic Guide to the Globe has the answer!
About Lonely Planet Kids: Lonely Planet Kids - an imprint of the world's leading travel authority Lonely Planet - published its first book in 2011. Over the past 45 years, Lonely Planet has grown a dedicated global community of travelers, many of whom are now sharing a passion for exploration with their children. Lonely Planet Kids educates and encourages young readers at home and in school to learn about the world with engaging books on culture, sociology, geography, nature, history, space and more. We want to inspire the next generation of global citizens and help kids and their parents to approach life in a way that makes every day an adventure. Come explore!

What is the most popular pet in the world? Where is the hottest place on Earth? When was the first country formed? Learn these and dozens of other fascinating facts about the planet and its people with this dynamically-illustrated and informative guide, with 48 colourful pages packed to the brim with graphs and charts about the world in which we live.
Topics covered in the book include:
The Earth's distance from the sun

Record-breaking weather

Largest and smallest countries

Awesome animals

World religions

The World Wide Web

Planets in motion
And much, much more. With out-of-this-world illustrations by Gwen Keraval and intriguing facts compiled by Eliza Berkowitz, this is an enjoyable learning resource for both adults and kids alike.
ISBN: 9781838692261
Edition: 1st
Publication Date: November 2020
Writers:
Berkowitz, Eliza
Keraval, Gwen
Age range: 9-12
48 pages | Dimensions: 241mm width × 267mm height
Next edition due: Not yet determined