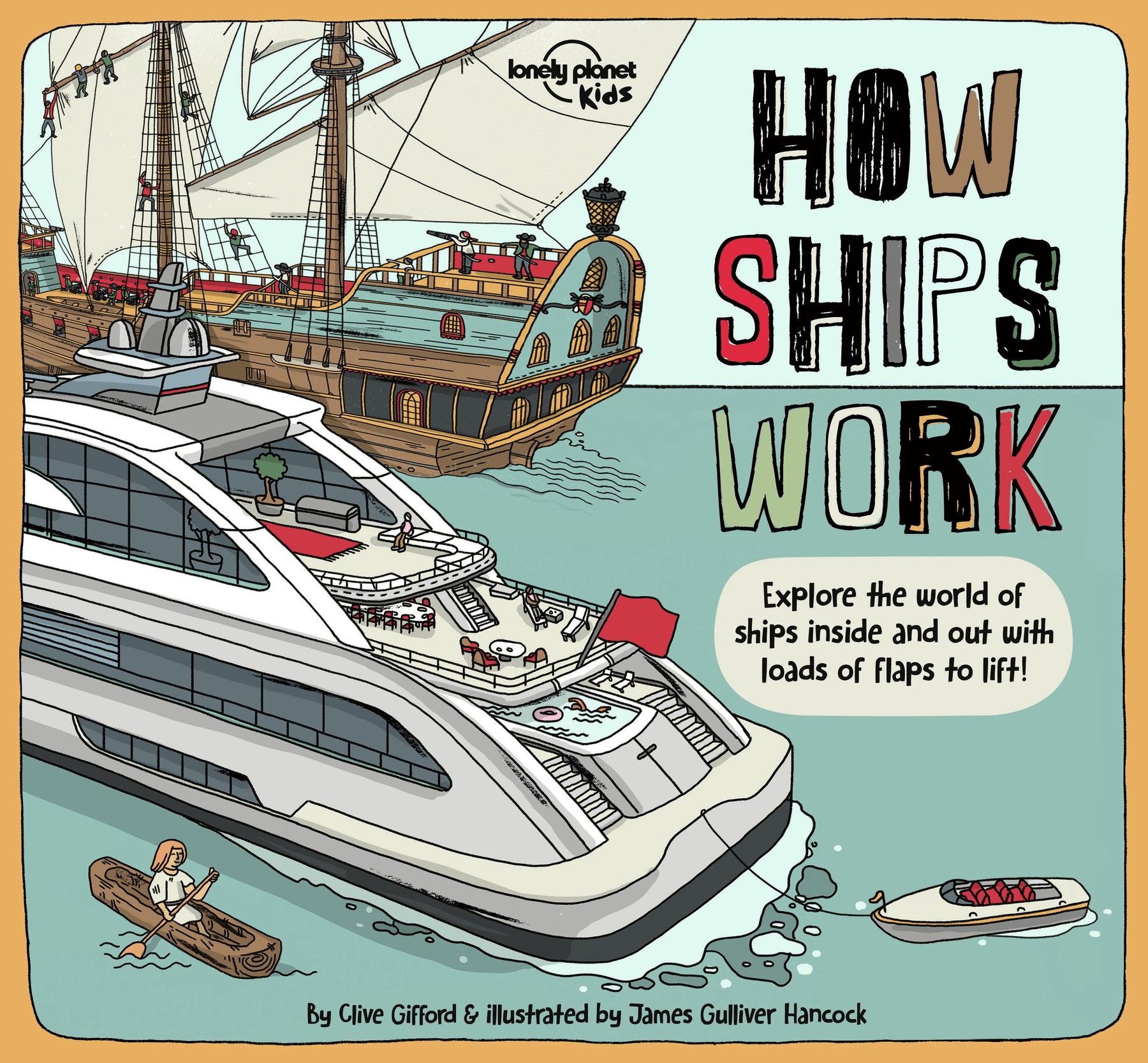 How Ships Work (North and South America edition)
A behind-the-scenes look at boats
The fifth title in our How... series takes to the waves to reveal
the wonders of ships and boats: how they do what they do,
what they're used for and how they've changed over time.
Featuring dazzling artwork by James Gulliver Hancock, spreads
will focus on ships big and small and of all shapes and sizes:
from rowing boats, sailing ships and container ships to giant
cruise liners, pirate ships and deep sea submarines.
The latest in our How… series takes to the waves to reveal the wonders of ships, boats and ferries and answers the questions of how they do what they do, what they're used for and how they have changed over time. Featuring fantastic artwork by celebrated illustrator James Gulliver Hancock, words by author Clive Gifford and loads of flaps to lift, this is the quintessential kids guide to all things ships!
Raise anchor as you set sail through the ages, from wooden paddle boats and tiny coracles to swanky mega-yachts with helipads and paddle steamers in this companion to How Airports Work and How Trains Work. From gigantic cruise liners to beautiful sailing ships, young readers will travel through history and around the world to find out everything they ever wanted to know about ships.
Lift the flaps to unfurl papyrus sails on an Ancient Egyptian ship sailing up the Nile, tour a historic Spanish galleon, zoom across the water at almost 320 miles per hour in a speedboat, and much more. See how ships stay afloat, cultivate wind power, and navigate using just the stars. Learn all about how the first simple boats carved out of tree trunks evolved into the giant super yachts and cruise liners of today, and take a look at the limitless possibilities of the ships of the future.
How Ships Work is jam-packed with amazing facts and awesome illustrations, and was created in consultation with the National Maritime Museum, UK.
ISBN: 9781838690595
Edition: 1st
Publication Date: September 2020
Writers:
Gifford, Clive
Hancock, James Gulliver
Age range: 6-8
24 pages | Dimensions: 275mm width × 254mm height
Next edition due: Not yet determined