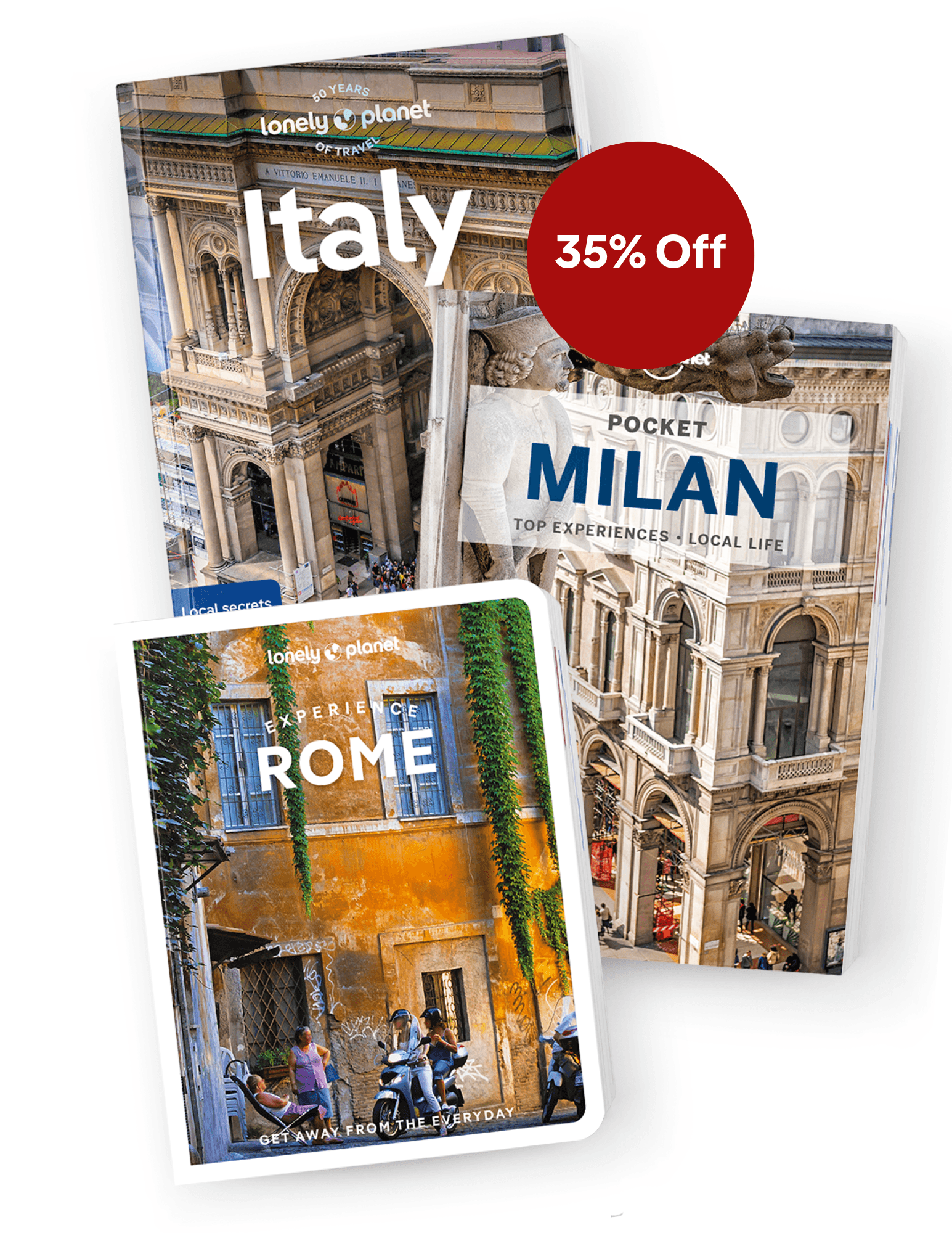 Italy eBook Bundle
Planning a trip to Italy? We got you covered. Get the eBook bundle for 35% off!
From the bustling streets of Milan to the ancient ruins of Rome, our eBook bundle is your ultimate guide to exploring Italy's most captivating destinations. Explore the vibrant culture, stunning architecture, and delicious cuisine of Italy from the comfort of your own home. Our Italy and Rome eBook bundle is packed with insider tips and expert recommendations to help you plan the perfect trip.
Don't miss out on the ultimate guide to Italy - get your eBook bundle now!
Select Chapters
Italy eBook Bundle
What's Inside
Inside Lonely Planet's Italy Travel Guide:
Lonely Planet's Top Picks - a visually inspiring collection of the destination's best experiences and where to have them

Itineraries help you build the ultimate trip based on your personal needs and interests

Local insights give you a richer, more rewarding travel experience - whether it's history, people, music, landscapes, wildlife, politics

Eating and drinking get the most out of your gastronomic experience as we reveal the regional dishes and drinks you have to try

Toolkit - all of the planning tools for solo travellers, LGBTQIA+ travellers, family travellers and accessible travel

Colour maps and images throughout

Language - essential phrases and language tips

Insider tips to save time and money and get around like a local, avoiding crowds and trouble spot
Inside Lonely Planet's Pocket Milan:
Up-to-date information - all businesses were rechecked before publication to ensure they are still open after 2020's COVID-19 outbreak

Full-colour maps and travel photography throughout

Highlights and itineraries help you tailor your trip to your personal needs and interests

Insider tips to save time and money and get around like a local, avoiding crowds and trouble spots

Essential info at your fingertips - hours of operation, phone numbers, websites, transit tips, prices

Honest reviews for all budgets - eating, sleeping, sightseeing, going out, shopping, hidden gems that most guidebooks miss

Free, convenient pull-out Milan map (included in print version), plus over 18 colour neighbourhood maps

User-friendly layout with helpful icons, and organised by neighbourhood to help you pick the best spots to spend your time
Inside Lonely Planet's Experience Rome:
Unique experiences to string together for an unforgettable trip

Inspiring full-colour travel photography and maps throughout

Pull-out Rome map (included in print version)

Highlights and neighbourhood trip builders to help tailor a trip to your personal needs and interests

Insights from local experts take you to the heart of the place - ancient relics, trattoria, piazzas, romance, gelato, the dolce vita lifestyle.

Fresh perspectives and insider tips to surprise you with things you hadn't thought of, as well as fresh takes on the well-known sights

Day trips for easy escapes from the city

Practical info and tips on money, getting around on the metro, unique and local ways to stay, and responsible travel
Covers
Italy: Rome, Turin, the Cinque Terre, Genoa, Milan, Venice, Verona, Bologna, Parma, Florence, Pisa, Naples, Bari, Sicily, Sardinia and more!
Experience Rome: Ancient Rome, Centro Storico, Tridente, Trevi & the Quirinale, Vatican City, Borgo & Prati, Monti, Esquilino & San Lorenzo, Trastevere & Gianicolo, San Giovanni & Testaccio, Villa Borghese & Northern Rome, Southern Rome and more
Pocket Milan: Parco Sempione, Porta Garibaldi, Brera, Duomo, San Babila, Navigli, Porta Romana, Corso Magenta, Sant'Ambrogio, Quadrilatero d'Oro, Giardini Pubblici, and more
Details
eBook is available in ePub, MOBI and PDF.



Italy:

ISBN: 9781838698102

Edition: 16th

Publication Date: May 2023

Writers: Garwood, Duncan Buckley, Julia D'Ignoti, Stefania DiGaetano, Virginia Geddo, Benedetta Hardy, Paula Ong, Stephanie Raub, Kevin Sandoval, Eva Williams, Nicola Zinna, Angelo

800 pages | Dimensions: 128mm width × 197mm height

Next edition due: Not yet determined

Experience Rome:

ISBN: 9781838694784

Edition: 1st

Publication Date: June 2022

Writers: Elisa Colarossi, Angela Corrias, Angelo Zinna

226 pages, 226pp color | Dimensions: 140mm × 180mm

Next edition due: Not yet determined

Pocket Milan:

ISBN: 9781788680400

Edition: 5th

Publication Date: March 2022

Writers: Paula Hardy

160 pages, 160pp color, 16 maps | Dimensions: 106mm × 153mm

Next edition due: Not yet determined